Daily Inspirational Quotes World Tour
Our weekly Ezine is on hold for the moment folks but will be back soon sooooo...
Join me on a Free World Tour with Daily Inspirational Quotes...
365 days of the best inspirational and motivational quotes, combined with the most stunning images from right across the globe. All sent straight to your inbox on a weekly basis for free!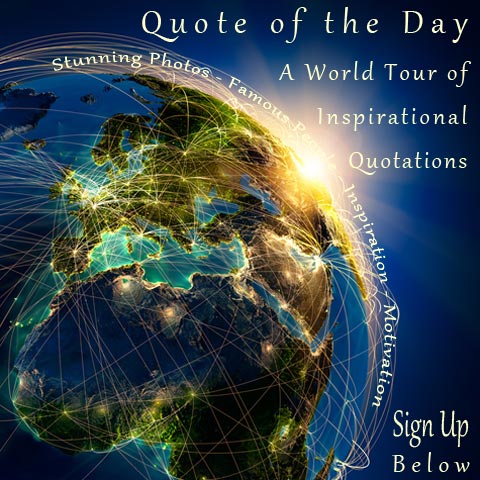 We kicked off our world tour in N. Ireland at the Giants Causeway, but of course you can sign up anytime and we'll continue to deliver great quotes and amazing places to see... straight to your inbox.
It's always been my dream to circumnavigate the globe, next to inspirational quotes my No.1 passion has always been travel. And although I consider myself fortunate to have seen quite a bit of the world, this is as close as it gets for me to circumnavigate the globe at the moment!
We'll be bringing you the best pictures from top locations around the globe aaaaaaand the best quotes to match!
So off we go, where we end up, who knows. I say it's good to have a plan but it's better to have ideas so...
Sign up Below and you Won't Miss Out on this
Circumnavigational and Inspirational Odyssey.

 Ok, just a brief summary of what you get -
Circumnavigational World Tour of Quotations
365 Days of the Best Inspirational Quotes from across the Globe
Inspirational Pictures from must see places
Monday Morning Motivation
All delivered to your inbox for free, your email address will NOT be shared and if you want to unsubscribe at any time it's easy to do so.
I c u after - Will

Return to Home Page
from Daily Inspirational Quotes