Ralph Waldo Emerson Quotes
Ralph Waldo Emerson was considered a great writer and orator in his time and has influenced many thinkers and writers since. This is one of my favourite authors for great quotes, and I find myself coming back for more Ralph Waldo Emerson quotes time and time again. Enjoy.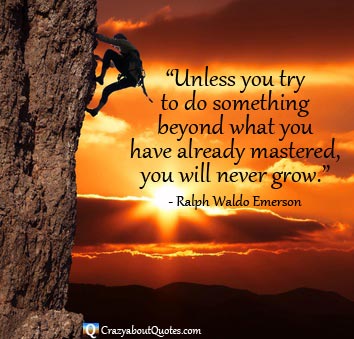 Profile: Born in Boston, U.S. on May 25th 1803, Ralf was the son of a Unitarian minister. His father died just before his 8th birthday.
He went on to Harvard college where he kept a list of books he read and started a journal, which he kept most of his life, and is considered by some to be Emerson's best literary work.

In 1826 Emerson moved to Florida and met Napoleon Bonaparte's nephew Murat, whom he considered a friend and influence on his intellectual education. He also experienced slavery there and on attendance at a bible society where there was a slave auction taking place in the yard, he wrote "One ear therefore heard the glad tidings of great joy", whilst the other was regaled with "Going, gentlemen going!"

Emerson became a pastor in 1829 and married Ellen Tucker 18, she died less than two years later from tuberculosis age 20 in 1831. This affected him greatly and he resigned his pastorate in 1832.

In 1833 he returned from travelling around Europe to embark on a career as a lecturer and in 1836 published his essay Nature, which expounded his ideas on the joys of nature and their spiritual significance. This established him as the key figure of transcendentalism.

Ralph Waldo Emerson believed in self-reliance and the human spirit, and spoke out against slavery and formal religion. He died in April 1882 of pneumonia age 78.
A Top 10 list of




Ralf Waldo Emerson Quotes




1:
"Write it on your heart that every day
is the best day in the year."
- Ralph Waldo Emerson
2:
"Nothing great was ever achieved without enthusiasm."

- Ralph Waldo Emerson



3:
"Guard well your spare moments.
They are like uncut diamonds.
Discard them and their value will never be known.
Improve them and they will become the brightest gems in a useful life."

- Ralph Waldo Emerson



4:
"Hitch your wagon to a star."

- Ralph Waldo Emerson



5:
"Make the most of yourself, for that is all there is of you."

- Ralph Waldo Emerson



6:
"Unless you try to do something beyond what you have already mastered,
you will never grow."

- Ralph Waldo Emerson

Emerson - Laugh...
Available at Allposters.com

7:
"We do not yet trust the unknown power of thoughts."

- Ralph Waldo Emerson



8:
"A man is what he thinks about all day long."

- Ralph Waldo Emerson



9:
"In every work of genius we recognise our own rejected thoughts;
they come back to us with a certain alienated majesty."

- Ralph Waldo Emerson



10:
"Insist upon yourself.
Be original."

- Ralph Waldo Emerson



I hope you've enjoyed this Top 10 list of Ralph Waldo Emerson quotes.
I love this next one, you've maybe heard it before or a version of it but sometimes with familiar words and sayings we tend to just scan over them and miss their beauty.


So take a break, take a breath and
relax and meditate on this great quote...

"Do not go where the path may lead,
go instead where there is no path and leave a trail."

- Ralph Waldo Emerson





Share this Page

More Ralph Waldo Emerson Quotes...


"For every minute you remain angry,
you give up sixty seconds of peace of mind."
- Ralph Waldo Emerson
"All I have seen teaches me
to trust the creator for all I have not seen."
- Ralph Waldo Emerson
"People do not seem to realize that their opinion of the world
is also a confession of character."
- Ralph Waldo Emerson
"To know even one life has breathed easier because you have lived.
This is to have succeeded."
- Ralph Waldo Emerson
"The best effort of a fine person
is felt after we have left their presence."
- Ralph Waldo Emerson
Related pages you may like...

Return to Quotes by
Famous People Index
from Ralph Waldo Emerson Quotes