Winston Churchill Quotes
A Top 10 list of the best Winston Churchill quotes and brief profile.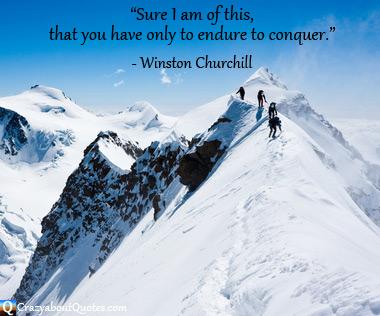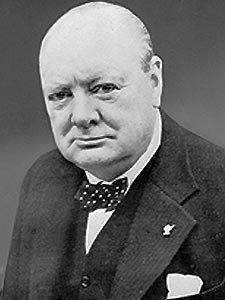 Profile: Winston Churchill was born on Nov 30, 1874, into a wealthy family in Oxfordshire. However his childhood was unhappy and he was not successful at school.
Churchill tasted military action with the 4th Hussars and returning home in 1900 was elected Conservative MP for Oldham. Four years later he changed sides to the Liberals and by 1912 was made First Lord of the Admiralty.
In 1915, having been blamed for early failures in the First World War the Conservatives insisted on his removal when they joined a coalition government. Churchill then rejoined the army, serving in the front line in France before returning to Westminster.
The following years were a mixture of success and failure but mostly failure. However it was in 1940 that his destiny began to take shape.
Winston Churchill took over from Chamberlin as Prime Minister of Great Britain and became a symbol of British resistance to Nazi Germany. He of course lead them to victory in 1945 but then lost the next election. Churchill became Prime Minister again in 1951, retiring due to ill health in 1955. He was also an artist and writer ( winning the Nobel Prize in Literature ). He died in 1965 age 90.
Winston Churchill was difficult and prone to depression yet he inspired a nation with his uncompromising and inspirational speeches, his determined leadership and unwavering vision for victory.
A Top 10 list of
Winston Churchill Quotes
1:

"Attitude is a little thing that makes a big difference."

- Winston Churchill



2:

"A pessimist sees the difficulty in every opportunity;
an optimist sees the opportunity in every difficulty."

- Winston Churchill



3:

"Never give in. Never give in.
Never, never, never, never -
in nothing great or small, large or petty.
Never give in except to convictions of honour and good sense."

- Winston Churchill



4:

"Success consists of going from
failure to failure without loss of enthusiasm."

- Winston Churchill



5:

"Sure I am of this, that you have only to endure to conquer."

- Winston Churchill
6:

"If you are going through hell, keep going."

- Winston Churchill



7:

"The empires of the future are the empires of the mind."

- Winston Churchill



8:

"If the human race wishes to have a prolonged
and indefinite period of material prosperity, they have only
got to behave in peaceful and helpful way toward one another."

- Winston Churchill



9:

"Healthy citizens are the greatest assets any country can have."

- Winston Churchill



10:

"Success is not final, failure is not fatal:
it is the courage to continue that counts."

- Winston Churchill

"Continuous effort,
not strength or intelligence,
is the key to unlocking our potential."

- Winston Churchill





Share this Page

More Winston Churchill Quotes...


"Never in the field of human conflict
was so much owed by so many to so few."
- Winston Churchill
"History will be kind to me for I intend to write it."
- Winston Churchill
"We shall draw from the heart of suffering itself
the means of inspiration and survival."
- Winston Churchill
"If you have an important point to make, don't try to be subtle or clever.
Use a pile driver. Hit the point once.
Then come back and hit it again.
Then hit it a third time - a tremendous whack."
- Winston Churchill
 The theme of most of these quotes
(you probably don't need me to tell you, but I will anyway)
is absolute perseverance in life is essential.
The right attitude with perseverance is undoubtedly the key to success.

And the great news is we all have lots of it.
Human potential is the same for all,
some of us just have to work harder to get there.


The Funny Quotes...


"My most brilliant achievement was my
ability to be able to persuade my wife to marry me."
- Winston Churchill
"I am prepared to meet my Maker.
Whether my Maker is prepared for the great ordeal of meeting me
is another matter."
- Winston Churchill
"My wife and I tried two or three times
in the last 40 years to have breakfast together,
but it was so disagreeable we had to stop."
- Winston Churchill
"I may be drunk, Miss,
but in the morning I will be sober
and you will still be ugly."
- Winston Churchill


Thanks for visiting
this Winston Churchill quotes page.
Related pages you may like...

Return to Quotes by
Famous People Timeline
from Winston Churchill Quotes