Inspirational Birthday Quotes



The perfect page for sharing with friends and family. Bookmark this page for the future and enjoy this collection of inspirational birthday quotes, which come from a wide range of famous people.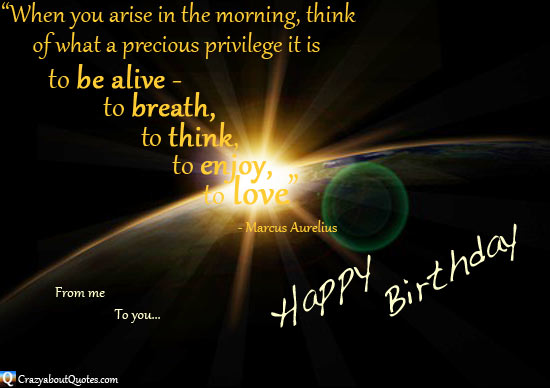 I particularly love this Marcus Aurelius quote. Birthday or not, really we should be waking every morning with this attitude! It truly is a privilege to be alive on this earth at this time and in this era.
A Top 10 List of
Birthday Quotes from Famous People
1:

"And in the end, it's not the years in your life that count.
It's the life in your years."

- Abraham Lincoln



2:

"At 20 years of age the will reigns;
at 30 the wit; and at 40 the judgment."

- Benjamin Franklin



3:

"May you live to be 100
and may the last voice you hear be mine."

- Frank Sinatra



4:

"Each ten years of a man's life has its own fortunes,
its own hopes, its own desires."

- Goethe




5:

"Live as if you were to die tomorrow,
learn as if you were to live forever."

- Mahatma Gandhi



6:

"Age is whatever you think it is.
You are as old as you think you are."

- Muhammad Ali



7:

"Youth has no age."

- Pablo Picasso



8:

"May you live all the days of your life."

- Jonathan Swift



9:

"Every year on your birthday, you get a chance to start new."

- Sammy Hagar



10:

"Some people, no matter how old they get, never lose their beauty -
they merely move it from their faces into their hearts."

- Martin Buxbaum

"Don't just count your years, make your years count."
- Ernest Meyers
More Inspirational Birthday Quotes...
"Your life is a gift from the Creator.
Your gift back to the Creator is what you do with your life."

- Billy Mills



"Live not one's life as though one had a thousand years,
but live each day as the last."

- Marcus Aurelius



"You are as young as your faith, as old as your doubt, as young as your self-confidence, as old as your fear, as young as your hope, as old as your despair."

- Paul H. Duhn



"We turn not older with years but newer every day."

- Emily Dickinson



"The more you praise and celebrate your life,
the more there is in life to celebrate."

- Oprah Winfrey



"What could be more beautiful than a dear old lady growing wise with age?
Every age can be enchanting, provided you live within it."

- Brigitte Bardot






Share this Page



Return to Home Page
Inspirational Birthday Quotes




Top of Page