Happy Birthday Quotes
An Alternative and Inspirational Top 10 List of happy birthday quotes. If you're looking for a different way to say happy birthday, I hope you find what you're looking for in this Top 10. Happy quote hunting.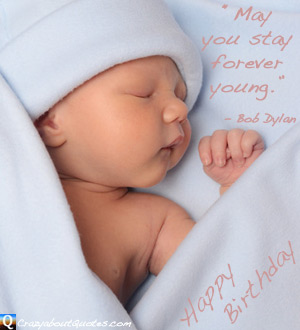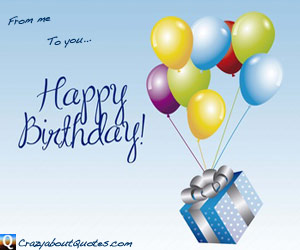 A Top 10 List of
Happy Birthday Quotes


1:

"May you stay forever young."

- Bob Dylan



2:

"Because time itself is like a spiral,
something special happens on your birthday each year:
The same energy that God invested in you at birth is present once again."

- Menachem Mendel Schneerson



3:

"Life is not measured by the breaths we take,
but by the moments that take our breath away."

- Unknown



4:

"Growing old is mandatory; growing up is optional."

- Chili Davis



5:

"You are here to do something you are uniquely created for.
No one else can do it like you.
Thats why you're here."

- Oprah Winfrey



6:

"There are no extra pieces in the universe.
Everyone is here because he or she has a place to fill,
and every piece must fit itself into the big jigsaw puzzle."

- Deepak Chopra



7:

"You are never too old to set another goal or to dream a new dream."

- C.S.Lewis



8:

"A well spent day brings happy sleep."

- Leonardo Da Vinci



9:

"The biggest adventure you can take is to live the life of your dreams."

- Oprah Winfrey



10:

"It takes a long time to grow young."

- Pablo Picasso



"Everyone is the age of their heart."

- Guatemalan Proverb



Share this Page


And the best of the rest…



"In childhood, we yearn to be grown-ups.
In old age, we yearn to be kids. 
It just seems that all would be wonderful
if we didn't have to celebrate our birthdays in chronological order."

- Robert Brault



"You're not 40, you're eighteen with 22 years experience."

- Unknown



"Our birthdays are feathers in the broad wing of time."

- Jean Paul Richter



"May you live to be 100 and may the last voice you hear be mine."

- Frank Sinatra



"One to-day is worth two to-morrows."

- Benjamin Franklin



"The first sign of maturity is the discovery
that the volume knob also turns to the left."

- Jerry M. Wright


---
Return to Birthday Quotes
from happy birthday quotes


Home Page


Top of this Page?