Oprah Winfrey Quotes
Seriously inspirational, amazingly successful, and justifiably loaded! Oprah Winfrey is one of a kind. Enjoy this brief profile and Top 10 list of Oprah Winfrey quotes.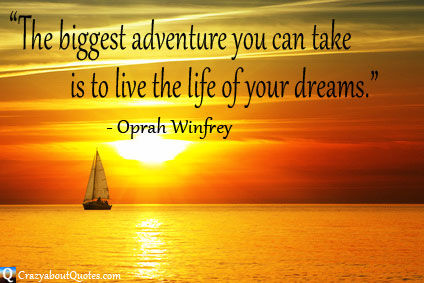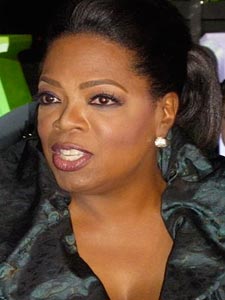 Profile: Oprah was born in 1954, in Kosciusko, Mississippi. She was named Orpah actually, but the former stuck as it was easier to pronounce. Oprah was born in poverty to a teenage mother who left her in the care of her grandmother, and it was her grandmother who taught her to read by the age of 3 as well as reciting in church occasionally.

At the age of 6 she was sent to live with her mother, this was the beginning of a difficult period. Oprah was abused from age 9 and was a wild teenager until she was sent to live with her father at 14. He provided stability and discipline, encouraging her education which was the key to her success.

At 19 Oprah was hired as a reporter and anchor for CBS. But it was in 1984 when she accepted a post in Chicago hosting a morning talk show that her career really catapulted. In 1986 she formed her own production company. The last episode of The Oprah Winfrey Show aired in 2011.

Oprah Winfrey was successful as an actress in Spielberg's The Color Purple, with her book club, creating O - The Oprah Magazine and many other ventures. She is also a philanthropist, humanitarian, and was the first black women to become a billionaire.
All of which makes her one of the most influential women in the world. It's been a pleasure picking the best inspirational and motivational Oprah Winfrey quotes out for you. Enjoy. (Image Credit: Greg Hernandez)
A Top 10 list
of Oprah Winfrey quotes

1:
"You've got to follow your passion.
You've got to figure out what it is you love - who you really are.
And have the courage to do that.
I believe that the only courage anybody ever needs
is the courage to follow your own dreams."

- Oprah Winfrey



2:
"Excellence is the best deterrent to racism or sexism."

- Oprah Winfrey



3:
"I remember a specific moment,
watching my grandmother hang the clothes on the line,
and her saying to me, 'you are going to have to learn this,'
and me being in that space of awareness and
knowing that my life would not be the same as my grandmother's life."

- Oprah Winfrey



4:
"Real integrity is doing the right thing,
knowing that nobody's going to know whether you did it or not."

- Oprah Winfrey



5:
"The biggest adventure you can take
is to live the life of your dreams."
- Oprah Winfrey
6:
"The whole point of being alive
is to evolve into the complete person you were intended to be."

- Oprah Winfrey



7:
"Understand that the right to choose your own path is a sacred privilege.
Use it.
Dwell in possibility."

- Oprah Winfrey



8:
"What I know is,
is that if you do work that you love, and the work fulfils you,
the rest will come."

- Oprah Winfrey



9:
"When I look into the future, it's so bright it burns my eyes."

- Oprah Winfrey



10:
"Be thankful for what you have; you'll end up having more.
If you concentrate on what you don't have,
you will never ever have enough."

- Oprah Winfrey

"I know for sure that what we dwell on is who we become."
- Oprah Winfrey
~
"You know you are on the road to success
if you would do your job, and not be paid for it."
- Oprah Winfrey





Share this Page
Related pages you may like...

Return to
Motivational Quotes Timeline
from Oprah Winfrey Quotes