Inspirational Mother Teresa Quotes
These Mother Teresa quotes contain the passion and love she showed for humanity in her work as a Roman Catholic nun. She made a massive difference in the world and to the lives of so many individuals.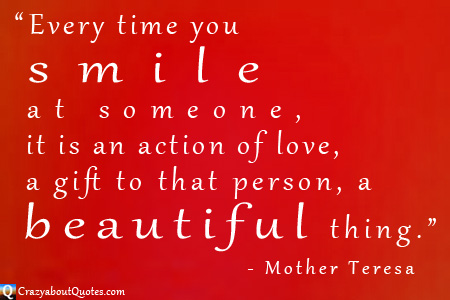 Profile: Agnes Gonxha Bojaxhiu was born 26th Aug 1910 in Yugoslavia. As early as 12 years of age she felt a calling to help the poor, and at 18 Agnes left home to join with a mission of Irish nuns in Calcutta.
In 1948 with permission from the Vatican, she left the convent life and took medical training in order to work directly with those in need.
Mother Teresa set up the 'Missionaries of Charity' that worked with the dying, the poor, orphans and those with diseases. She then expanded this work into other countries and by the time she won the Nobel Peace Prize in 1979, she had more than 200 groups in over 25 countries.
Malcolm Muggeridge is credited for bringing Mother Teresa to the worlds attention in his film and book. Initially reluctant to do the film, after persuaded, she wrote to Malcolm "Let us now do something beautiful for God". 
Despite her heart condition in later years she continued to work with the poorest of the poor. Mother Teresa died on Sept 5th 1997 in Calcutta.
This inspirational women helped change the world with her love and compassion for the poor. And ultimately, did indeed accomplished Something Beautiful for God
that will be an inspiration to the generations that follow.
Top 10 Inspirational
Mother Teresa Quotes


1:
"Spread love everywhere you go.
Let no one ever come to you without leaving happier."
- Mother Teresa
2:
"Be faithful in small things because it is in them that your strength lies."
- Mother Teresa
3:
"If you judge people, you have no time to love them."
- Mother Teresa
4:
"The miracle is not that we do this work,
but that we are happy to do it."
- Mother Teresa
5:
"Not all of us can do great things.
But we can do small things with great love."
- Mother Teresa
6:
"Let us not be satisfied with just giving money.
Money is not enough, money can be got,
but they need your hearts to love them.
So, spread your love everywhere you go."
- Mother Teresa
7:
"If you can't feed a hundred people, then just feed one."
- Mother Teresa
8:
"We think sometimes that poverty is only being hungry, naked and homeless.
The poverty of being unwanted, unloved and uncared for is the greatest poverty.
We must start in our own homes to remedy this kind of poverty."
- Mother Teresa
9:
"I'm a little pencil in the hand of a writing God,
who is sending a love letter to the world."
- Mother Teresa
10:
"I believe there's no such thing as luck in life, it's God's love, it's His."
- Mother Teresa
Take a 'Look Inside' Mother Teresa's Work on Amazon...

"We need to find God,
and he cannot be found in noise and restlessness.
God is the friend of silence.
See how nature - trees, flowers, grass- grows in silence;
see the stars, the moon and the sun,
how they move in silence...
We need silence to be able to touch souls."
- Mother Teresa





Share this Page

More Mother Teresa Quotes...


"If we pray, we will believe;
If we believe, we will love;
If we love, we will serve." 
- Mother Teresa

~


"Each one of them is Jesus in disguise."
- Mother Teresa

~


"I see Jesus in every human being.
I say to myself, this is hungry Jesus, I must feed him.
This is sick Jesus. This one has leprosy or gangrene;
I must wash him and tend to him.
I serve because I love Jesus."
- Mother Teresa

~


"Never be so busy as not to think of others."
- Mother Teresa

~


"I will never understand
all the good that a simple smile can accomplish."
- Mother Teresa
---

Return to Quotes by
Famous People Timeline
from Mother Teresa quotes