Inspirational Spiritual Quotes

Welcome to this spiritual quotes page. Spirituality begins when we start asking ourselves questions about life, the universe, why we are here, and what happens when we die?
You may not find all the answers here, however, I think the secret to spirituality is the 'I' part, you need to be genuinely seeking the truth, questioning everything you were taught in school or church, and looking inside yourself for the answers.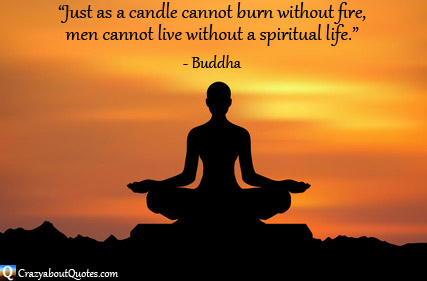 What I do know is we are all connected together and our power of thought is the greatest tool we have, but as a human race we're still a long way from fully grasping the powers and laws that govern this life and universe.
A Top 10 list of
Inspirational Spiritual Quotes


1:
"Great men are they
who see that spiritual is stronger than any material force
- that thoughts rule the world."

- Ralph Waldo Emerson 1803 - 1882 : Poet, lecturer and philosopher



2:
"Intellect takes us along in the battle of life to a certain limit,
but at the crucial moment it fails us.
Faith transcends reason.
It is when the horizon is the darkest
and human reason is beaten down to the ground
that faith shines brightest and comes to our rescue."

- Gandhi 1869 - 1948 : Leader of Indian independence



3:
"Take up one idea.
Make that idea your life - think of it, dream of it, live on that idea.
Let the brain, muscles, nerves, every part of your body,
be full of that idea, and just leave every other idea alone.
This is the way to success,
that is the way great spiritual giants are produced."

- Swami Vivekananda 1863-1902:Spiritual leader and Indian reformer



4:
"It isn't until you come to a spiritual understanding of who you are -
not necessarily a religious feeling,
but deep down, the spirit within -
that you can begin to take control."

- Oprah Winfrey 1954 -present : Former talk show host



5:
"In order to experience everyday spirituality,
we need to remember that
we are spiritual beings
spending some time in a human body."

- Barbara de Angelis 1951 - present : Motivational speaker and author



6:
"The glory of friendship is not in the outstretched hand,
nor the kindly smile, nor the joy of companionship;
it is in the spiritual inspiration that comes to one
when he discovers that someone else believes in him
and is willing to trust him."

- Ralph Waldo Emerson 1803 - 1882 : Poet, lecturer and philosopher



7:
"When you examine the lives
of the most influential people who have ever walked among us,
you discover one thread that winds through them all.
They have been aligned first with their spiritual nature
and only then with their physical selves."

- Albert Einstein 1879-1955 : Theoretical physicist



8:
"Love is what we are born with.
Fear is what we learn.
The spiritual journey is the unlearning of fear and prejudices
and the acceptance of love back in our hearts.
Love is the essential reality and our purpose on earth.
To be consciously aware of it,
to experience love in ourselves and others,
is the meaning of life.
Meaning does not lie in things.
Meaning lies in us."

- Marianne Williamson 1953 - present : Spiritual teacher and author



9:
"Always do right.
This will gratify some people and astonish the rest."

- Mark Twain 1835 - 1910 : Author, humourist and speaker



10:
"The foundation of all spiritual practice is love.
That you practice it well is my only request."

- 14th Dalai Lama 1935 - present : Spiritual leader




I hope you enjoyed these spiritual quotes and are a little more enlightened because of it! This quote from Swami Vivekananda is certainly with highlighting...
"A man may be the greatest philosopher in the world
but a child in religion. When a man has developed
a high state of spirituality he can understand that
the kingdom of heaven is within him."

- Swami Vivekananda 1863 - 1902 
(Spiritual leader and reformer)


More Spiritual Quotes...
"Happiness is the spiritual experience of
living every minute with love, grace, and gratitude."
- Denis Waitely

~
"Man has two great spiritual needs.
One is for forgiveness.
The other is for goodness."
- Billy Graham

~
"Every natural fact is a symbol of some spiritual fact."
- Ralph Waldo Emerson


~
"Every time you don't follow your inner guidance,
you feel a loss of energy, loss of power,
a sense of spiritual deadness."
- Shakti Gawain

~
"Impart as much as you can of your spiritual being
to those who are on the road with you,
and accept as something precious
what comes back to you from them."

- Albert Schweitzer




Share this Page
Other spiritual related quotes you may like...


Return to Home Page
from Spiritual Quotes