Dalai Lama Quotes
His Holiness the 14th Dalai Lama is a spiritual leader who has travelled worldwide, meeting world and religious leaders; always searching for common ground with his philosophy of kindness, forgiveness, love and compassion for humanity. I hope you will enjoy these insightful Dalai Lama quotes.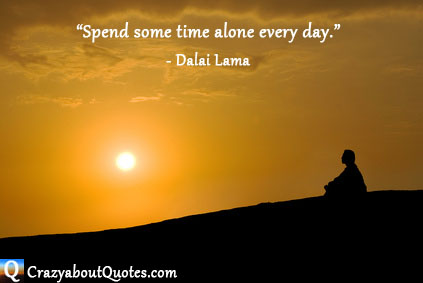 Profile: Tenzin Gyatso, His Holiness the 14th Dalai Lama was born in a small village in Tibet on July 6th 1935. At the age of 2 he was recognised as the reincarnation of the 13th Dalai Lama.

Dalai Lamas are believed to be manifestations of the Bodhisattva of Compassion (enlightened beings that choose rebirth over nirvana in order to serve humanity). The first Dalai Lama was born in 1391.

In 1939 the child was taken to Lhasa and installed as the spiritual leader of Tibet the next year. And then in 1950 age just 15 he was officially enthroned as leader of 6 million Tibetans whilst a growing threat of war loomed from China.

The threat to his life grew and he escaped to India in 1959 where he set up government in Dharamasala. Since then this 'Ocean of Wisdom' has worked to gain freedom and independence for Tibet through non-violent means.
A Top 10 list of
Dalai Lama Quotes


1:
"With realisation of one's own potential and
self-confidence in one's ability, one can build a better world."

- Dalai Lama



2:
"Whether one believes in a religion or not,
and whether one believes in rebirth or not,
there isn't anyone who doesn't appreciate kindness and compassion."

- Dalai Lama



3:
"It is very important
to generate a good attitude, a good heart, as much as possible.
From this, happiness in both the short term and the long term
for both yourself and others will come."

- Dalai Lama



4:
"Remember that not getting what you want
is sometimes a wonderful stroke of luck."

- Dalai Lama



5:
"If you want others to be happy, practice compassion.
If you want to be happy, practice compassion."

- Dalai Lama



6:
"In order to carry a positive action
we must develop here a positive vision."
- Dalai Lama
7:
"We are born and reborn countless number of times, and it is possible
that each being has been our parent at one time or another. Therefore,
it is likely that all beings in this universe have familial connections."

- Dalai Lama



8:
"The way to overcome negative thoughts and destructive emotions
is to develop opposing, positive emotions
that are stronger and more powerful."

- Dalai Lama



9:
"Be kind whenever possible. It is always possible."

- Dalai Lama



10:
"I find hope in the darkest of days, and focus in the brightest.
I do not judge the universe."

- Dalai Lama
More Dalai Lama Quotes...
"We are visitors on this planet. 
We are here for ninety, a hundred years at the very most. 
During that period we must try to do something good, 
something useful with are lives."
- Dalai Lama
"Try to be at peace with yourself 
and help others share that peace. 
If you contribute to other people's happiness, 
you will find the true goal, 
the true meaning of life."
- Dalai Lama 
"Choose to be optimistic, it feels better."
- Dalai Lama

"Look at children…
If they feel angry with someone,
they express it, and then it is finished.
They can still play with that person the following day."
- Dalai Lama

"There is no need for temples,
no need for complicated philosophies.
My brain and my heart are my temples;
my philosophy is kindness."
- Dalia Lama





Share this Page
Related pages you may like...
---

Return to Buddha Quotes
from Dalai Lama Quotes