Inspirational Quotes about God
Hi, I hope you enjoy this collection of inspirational quotes about God. I don't know if your searching for God or seeking truth, maybe you don't believe at all. Whatever your reason for finding this page, take the time to ponder these words of wisdom about God.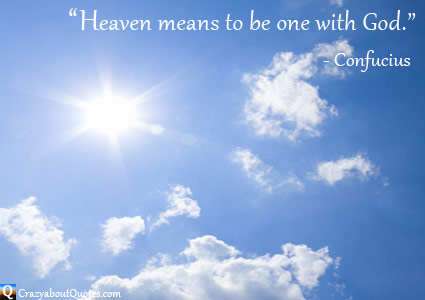 If you are searching, turn off all noise, seek the silence, even stop praying and just listen. Because it is only in the silence that we can clear our minds and gather our thoughts, and, maybe then, hear the still small voice of God.
Thats been my experience anyway. I've done some solo travelling and have always felt closer to God when I am alone with no distractions. I hope these quotes about God will inspire you a little.



A Top 10 List of Quotes about God


1:
"The highest revelation is that God is in every man."

- Ralph Waldo Emerson
2:
"God enters by a private door into each individual."

- Ralph Waldo Emerson 1803 - 1882 : Poet, lecturer and philosopher


3:
"Our deepest fear is not that we are inadequate.
Our deepest fear is that we are powerful beyond measure.
It is our light, not our darkness, that most frightens us.
We ask ourselves, who am I to be brilliant, gorgeous,
talented, fabulous? Actually, who are you NOT to be?
You are a child of God.
Your playing small does not serve the world.
There is nothing enlightened about shrinking so that other people won't feel insecure around you. We were born to make manifest the glory of God that is within us.
It is not just in some of us,
it is in everyone.
And as we let our own light shine, we unconsciously give other people permission to do the same. As we are liberated from our own fear,
our presence automatically liberates others."

- Marianne Williamson 1953 - present : Spiritual teacher and author




4:
"God gave me nothing I wanted, he gave me everything I needed."

- Swami Vivekananda 1863 - 1902 : Spiritual leader and Indian reformer





5:
"Everyone has faith in God though everyone does not know it.
For everyone has faith in himself and that multiplied to the nth degree
is God.
The sum total of all that lives is God.
We may not be God, but we are of God,
even as a little drop of water is of the ocean."

- Gandhi 1869 - 1948 : Leader of Indian independence





6:
"God has no religion."

- Gandhi 1869 - 1948 : Leader of Indian independence





7:
"I believe that God prays in us and through us,
whether we are praying or not
(and whether we believe in God or not).
So, any prayer on my part is a conscious response
to what God is already doing in my life."

- Malcolm Boyd 1923 - present : Episcopal priest and author





8:
"Prayer is when you talk to God; meditation is when you listen to God."

- Diana Robinson





9:
"He that loveth not knoweth not God;
for God is love."

- Bible (KJV) - 1 John 4:8





10:
"It is good to love God for hope of reward,
but it is better to love God for loves sake; and the prayer goes:
O Lord, I do not want wealth nor children nor learning.
If it be Thy will, I shall go from birth to birth. But grant me this,
that I may love thee without the hope of reward -
love unselfishly for loves sake."

- Swami Vivekananda 1863 - 1902 : Spiritual leader and Indian reformer



That last last quote is hard to top
but I'll just leave you with this...
"Be still,
and know that I am God."

Bible (KJV) - Psalms 46:10



Share this Page
Thanks for visiting this quotes about God page.
Enjoy the rest of this site.

---
Related pages you may like...
---

Return to Spiritual Quotes Page
from Quotes about God