Inspirational
Eleanor Roosevelt Quotes
Well, wow, I've got to say it's been an inspiring experience just compiling this Eleanor Roosevelt quotes page. This is one inspirational and dedicated lady, who made a real difference to so many lives.
Eleanor transformed the role of 1st Lady in the United States. She was outspoken on many issues, unusual for women in her time, and is considered an inspirational leader who fought for social and political change.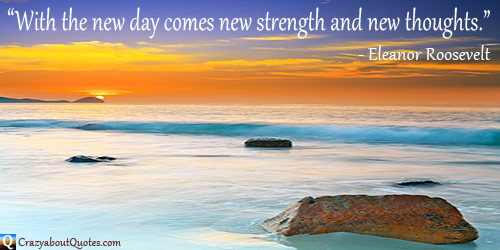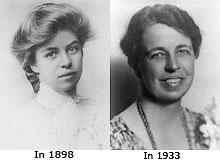 Profile: Born on Oct 11th, 1884, Eleanor was a shy child who by the age of 10 had lost both her parents. At 15 she was sent to a school in England and was greatly influenced by the feminist headmistress there.
Eleanor, a niece of President Theodore Roosevelt, went on to marry her distant cousin Franklin in 1905. In 1918 Eleanor found out about her husbands affair, and it was around this time she entered public life.
In 1921 Franklin D. Roosevelt lost the use of his legs from polio. Eleanor helped him regain his mental strength and ambition, and when Franklin became president in 1933 she used her role as First Lady to fight for human rights, women's issues and the poor in society.
Even after her husbands death in 1945 Eleanor continued her public life and helped write the Universal Declaration of Human Rights. She also wrote several books of her own including You Learn by Living: Eleven Keys for a More Fulfilling Life
. Eleanor also accepted a post from J.F. Kennedy, as delegate to the U.N.

Eleanor Roosevelt died in 1962 at the age of 78. This was one seriously dedicated and inspirational women who made a real and lasting difference to so many lives and she still remains an inspiration to millions.
A Top 10 list of Inspirational
Eleanor Roosevelt Quotes
1:
"The future belongs to those who believe in the beauty of their dreams."
- Eleanor Roosevelt
2:
"Learn from the mistakes of others.
You can't live long enough to make them all yourself. "
- Eleanor Roosevelt
3:
"You can often change your circumstances by changing your attitude."
- Eleanor Roosevelt
4:
"Never mistake knowledge for wisdom.
One helps you make a living; the other helps you make a life."
- Eleanor Roosevelt 
5:
"No one can make you feel inferior without your consent."
- Eleanor Roosevelt
6:
"People grow through experience if they meet life honestly and courageously. This is how character is built."
- Eleanor Roosevelt
7:
"You gain strength, courage and confidence
by every experience in which you really stop to look fear in the face.
You are able to say to yourself,
'I have lived through this horror. I can take the next thing that comes along.'
You must do the thing you think you cannot do."
- Eleanor Roosevelt
8:
"Many people will walk in and out of your life,
but only true friends will leave footprints in your heart."
- Eleanor Roosevelt
9:
"I am who I am today because of the choices I made yesterday."
- Eleanor Roosevelt
10:
"It is better to light a single candle than to curse the darkness."
- Eleanor Roosevelt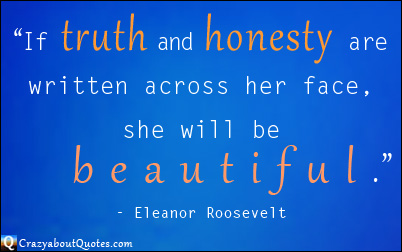 More Eleanor Roosevelt Quotes...


"A woman is like a tea bag;
you never know how strong it is until it's in hot water."
~
"It takes courage to love, but pain through love
is the purifying fire which those who love generously know.
We all know people who are so much afraid of pain
that they shut themselves up like clams in a shell and,
giving out nothing, receive nothing
and therefore shrink until life is a mere living death."
- Eleanor Roosevelt
~
"Do one thing every day that scares you."
- Eleanor Roosevelt
~
"Each time you learn something new
you must readjust the whole framework of your knowledge."
- Eleanor Roosevelt
~
"Great minds discuss ideas.
Average minds discuss events.
Small minds discuss people."
- Eleanor Roosevelt
~
"Yesterday is history.
Tomorrow is a mystery.
Today is a gift.
That's why it is called the present."
- Eleanor Roosevelt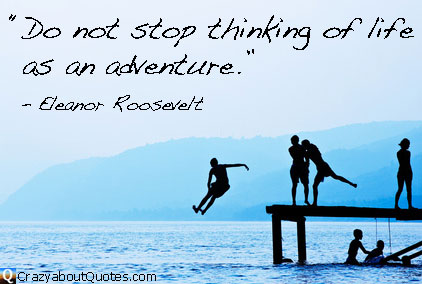 Share this Page
Take a 'Look Inside' Eleanor's Life and Work on Amazon...
---

Return to Quotes by
Famous People Timeline
from Eleanor Roosevelt quotes