Theodore Roosevelt Quotes
These Theodore Roosevelt quotes are full of the passion and enthusiasm that he displayed in his life. Enjoy this profile and Top 10 list that will give you an insight on one of the great presidents.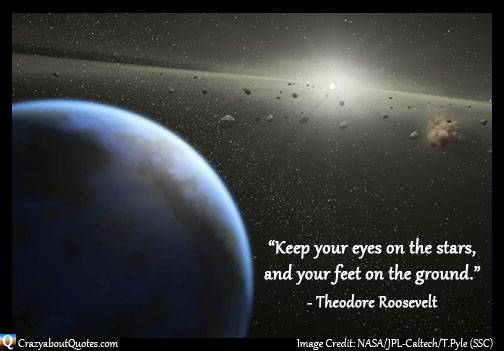 Profile: Theodore Roosevelt was born into a wealthy family in New York City in 1858. He suffered from asthma as a youth and was tutored at home, but overcame his illness through exercise and went on to graduate from Harvard in 1880. He then entered politics getting elected to the New York State Assembly in 1881.
Roosevelt's father who was of great influence and strength to him, died in 1878 and in 1884 his wife and mother died on the same day. Filled with grief Theodore quit politics and went to his ranch in Dakota for two years.
Returning to public life, he held several positions before resigning as secretary of the navy to led a cavalry unit in the American-Spanish War. Roosevelt returned the hero which helped him secure the New York governorship in 1898 then the vice presidency in 1900.
Theodore Roosevelt became president in 1901 after McKinley's assassination, at 42 he was the youngest president in history. He made sweeping changes at home, enhanced America's reputation as a world power, helped create the Panama Canal, tackled corruption, as well as conservation and became very popular with the public in the process.
Despite being known for his "Speak softly and carry a big stick; you will go far." quote, he was one of only three siting presidents to win the Noble Peace Prize.
Theodore Roosevelt lived life to the full and with tremendous enthusiasm, he was a unique politician as well as a writer and explorer. He died in 1919 age 60.
At time of writing you can get Theodore Roosevelt; an Autobiography
on your Kindle for free.
A Top 10 List of
Theodore Roosevelt Quotes
1:

"Believe you can and you're halfway there."

- Theodore Roosevelt



2:

"Courtesy is as much a mark of a gentleman as courage."

- Theodore Roosevelt



3:

"I am part of everything that I have read."

- Theodore Roosevelt



4:

"Far and away the best prize that life has to offer
is the chance to work hard at work worth doing."

- Theodore Roosevelt



5:

"Keep your eyes on the stars, and your feet on the ground."

- Theodore Roosevelt
6:

"If you could kick the person in the pants responsible
for most of your trouble, you wouldn't sit for a month."

- Theodore Roosevelt



7:

"With self-discipline most anything is possible."

- Theodore Roosevelt



8:

"Never throughout history has a man who lived a life of ease
left a name worth remembering."

- Theodore Roosevelt



9:

"Great thoughts speak only to the thoughtful mind,
but great actions speak to all mankind."

- Theodore Roosevelt



10:

"Nobody cares how much you know, until they know how much you care."

- Theodore Roosevelt

These two Theodore Roosevelt quotes go together pretty well...

"Do what you can, with what you have, where you are."
- Theodore Roosevelt
~
"Get action. Seize the moment.
Man was never intended to become an oyster."
- Theodore Roosevelt





Share this Page
Thanks for visiting this Theodore Roosevelt Quotes page  : )



Return to
Famous People Index Page
from Theodore Roosevelt quotes