Benjamin Franklin Quotes
The fact that Benjamin Franklin quotes are still used in our every day language over two and a half centuries later is a testament to the enduring legacy of this great statesman.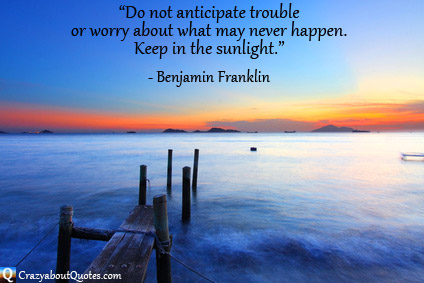 Profile: Benjamin Franklin was born in Boston, Massachusetts on 17th Jan 1706 into a strict religious family. He did not receive a proper education due to poverty and so was apprenticed at age 12 to his brother James who was a printer and publisher of a Boston newspaper.

During this time he improved his education by reading everything he could get his hands on and before long he began secretly to write for the paper under another name. This lead to tension between the brothers and he ran away at 17 to Philadelphia.

He arrived virtually penniless but by 1728 earned enough to start his own business and by 1730 became the sole owner of the Pennsylvania Gazette.

A really important decision he made when only 21, for me, is the creation of Junto, a club of like minded tradesmen and friends that met to discuss improvement possibilities for themselves and the community. Their book sharing gave birth to the first library in the colonies and many many more contributions followed.

By 1948 Benjamin Franklin was so successful he was able to retire from the printing industry to concentrate on his scientific inquiries and writing. He had already invented the Franklin stove but his discoveries and experiments with electricity brought him even more fame and respect.

In 1751 Benjamin Franklin was elected to the Pennsylvania Assembly and was heavily involved in politics and diplomacy for the rest of his life. He lived and enjoyed much time in England throughout his life until the tensions with taxation and self-government issues boiled over.

He helped draft the Declaration of Independence which was signed in 1776. Franklin was also greatly successful in his diplomacy mission to France in order to aid the American Revolution, returning home the hero in 1785. His diplomacy skills were also crucial in the creation of the U.S. Constitution in 1787. He died in 1790 aged 84 having seen George Washington become the 1st U.S. president the year before.

I have to confess that I didn't know as much as I thought I knew about Franklin before doing this profile and this only lightly touches some of his great achievements. These Benjamin Franklin quotes are full of the sincerity and integrity that he showed in his life and work. Enjoy.
A Top 10 List of
Benjamin Franklin Quotes


1:
"An investment in knowledge pays the best interest."

- Benjamin Franklin



2:
"Never leave that till tomorrow which you can do today."

- Benjamin Franklin



3:

"Do not fear mistakes.
You will know failure. Continue to reach out."

- Benjamin Franklin

4:
"Early to bed and early to rise,
makes a man healthy, wealthy and wise."

- Benjamin Franklin



5:
"The constitution only gives people the right to pursue happiness.
You have to catch it yourself."

- Benjamin Franklin



6:
"By failing to prepare, you are preparing to fail."

- Benjamin Franklin



7:
"Be civil to all, sociable to many,
familiar with few, friend to one, enemy to none."

- Benjamin Franklin



8:
"If you would be loved, love and be loveable."

- Benjamin Franklin



9:
"Energy and persistence conquer all things."

- Benjamin Franklin



10:
"Without continual growth and progress,
such words as improvement, achievement and success have no meaning."

- Benjamin Franklin
"Dost thou love life? Then do not squander time,
for that is the stuff life is made of."

- Benjamin Franklin



Share this Page

10 Short Benjamin Franklin Quotes...


"Honesty is the best policy."

~

"God helps those who help themselves."

~

"A penny saved is a penny earned."

~

"There are no gains without pains."

~

"In this world nothing can be said to be certain, except death and taxes."

~

"Keep your eyes wide open before marriage, half shut afterwards."

~

"One day is worth two tomorrows."

~

"Time is money."

~

"Whatever is begun in anger ends in shame."

~

"Well done is better than well said."




Share this Page
Related pages you may like...
Abraham Lincoln
Franklin Roosevelt
George Washington
Theodore Roosevelt
Thomas Jefferson
---

Return to Quotes by Famous People
from Benjamin Franklin Quotes