Ralph Waldo Emerson Quotes
Personally I can't get enough of Ralph Waldo Emerson quotes. I love this great writer and philosopher, and find myself coming back to his pages all the time for inspiration and motivation.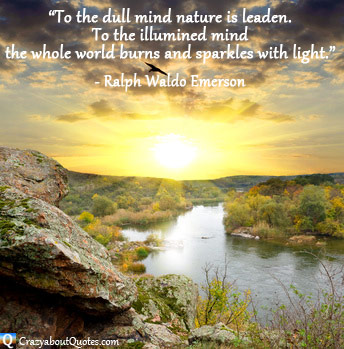 I think I may be on a mission to assimilate emerson's quotes into my subconscious! Not a bad idea really, a daily dose of emerson's thoughts and philosophy can only be good for your mind. Anyway, more quotes and profile of Emerson at the end. Enjoy.

A Top 10 list of
Ralf Waldo Emerson Quotes
1:
"This time, like all times, is a very good one,
if we but know what to do with it."

- Ralph Waldo Emerson



2:
"Always do what you are afraid to do."

- Ralph Waldo Emerson



3:
"One of the illusions of life is that
the present hour is not the critical, decisive hour.
Write it on your heart that every day is the best day in the year."

- Ralph Waldo Emerson



4:
"The high prize of life, the crowning fortune of man,
is to be born with a bias to some pursuit
which finds him in employment and happiness."

- Ralph Waldo Emerson



5:
"Every great achievement is the victory of a flaming heart."

- Ralph Waldo Emerson



6:
"To the dull mind nature is leaden.
To the illumined mind
the whole world burns and sparkles with light."
- Ralph Waldo Emerson
7:
"The world makes way for the man who knows where he is going."

- Ralph Waldo Emerson



8:
"Some thoughts always find us young, and keep us so.
Such a thought is the love of the universal and eternal beauty."

- Ralph Waldo Emerson



9:
"By persisting in your path,
though you forfeit the little, you gain the great."

- Ralph Waldo Emerson



10:
"To be yourself
in a world that is constantly trying to make you something else
is the greatest accomplishment."

- Ralph Waldo Emerson


Take a 'Look Inside' Emerson's Work on Amazon...
Handpicked selections of what's popular, value for money, and getting good reviews on Amazon.
If I haven't read it yet, I Want To. Must... Make... More... Time... To... Read!
Any reviews or suggestions leave them in the box below. Thanks.
Within this emerson quote below I have chosen to highlight
lies one of the secrets of life and success.
"Everybody keeps telling me
how surprised they are with what I've done.
But I'm telling you honestly that it doesn't surprise me.
I knew I could do it."

- Ralph Waldo Emerson



Share this Page
Absolute faith in one's self is something I struggle with myself but even many of the great authors in this site have too. So don't be too hard on yourself if your confidence is low at the moment because of some perceived failure, it happens to all at some point in life.

The great thing about the human spirit is we learn from our mistakes and move forward. Faith and belief in yourself comes with experience and a lot of perseverance. So keep fuelling your mind to success with quality quotes from these great motivators past and present.
Click here to check out more quotes by Emerson and profile
---

Return to
Motivational Quotes Timeline
from Emerson Quotes