Attitude Quotes to
Fuel your Mind for Success
These attitude quotes will keep your mind fuelled and focused on how important it is to stay positive in life. Yes, Attitude Is Everything.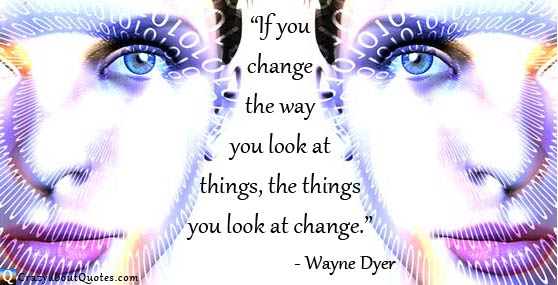 The way we look at things depends on our attitude, how we process every single thought we have. Setbacks are an inevitable part of life, it's how we deal with them that matters. Or as my favourite psychologist puts it:
"The greatest discovery of my generation is that
a human being can alter his life by altering his attitudes of mind.
As you think, so shall you be."

- William James 1842 -1910
Top 10 List of
Attitude Quotes


1:

"There is a little difference in people,
but that little difference makes a big difference.
The little difference is attitude.
The big difference is whether it is positive or negative."

- W. Clement Stone 1902 - 2002 : Businessman and author



2:

" Weakness of attitude becomes weakness of character."

- Albert Einstein 1879 - 1955 : Theoretical physicist



3:

"We can complain because rose bushes have thorns,
or rejoice because thorn bushes have roses."

- Abraham Lincoln 1809 - 1865 : 16th U.S. president (1861 - 1865)



4:

"A positive attitude causes a chain reaction of positive thoughts,
events and outcomes.
It is a catalyst and it sparks extraordinary results."

- Wade Boggs (1958) : Professional baseball third baseman



5:

"Life is 10 percent what you make it
and 90 percent how you take it."

- Irving Berlin 1888 - 1989 : Songwriter and composer



6:

"It is your attitude at the beginning of a difficult task which,
more than anything else, will affect its successful outcome."

- William James 1842 - 1910 : Psychologist and philosopher



7:

"An attitude of positive expectation is the mark of the superior personality."

- Brian Tracy : Author and speaker



8:

"Every morning we wake up with the same choice:
What will my attitude be today?
Ask yourself that without fail.
Decide that no matter what the day brings,
your attitude will include three elements:
an awareness of how far you've come,
gratitude for where you are,
and determination to keep moving in the right direction."

- Toni Sorenson : Author



9:

"Attitude is a little thing that makes a big difference."

- Winston Churchill 1874 - 1965 : Prime Minister of Great Britain



10:

"Attitude is the first quality that marks the successful man.
If he has a positive attitude and is a positive thinker,
who likes challenges and difficult situations,
then he has half his success achieved."

- John C. Maxwell (1947) : Author, speaker, and pastor



A few more attitude quotes worthy of your time…




"Your attitude, not your aptitude,
will determine your altitude."

- Zig Ziglar 1926 - 2012 : Author and speaker



"We cannot change the inevitable.
The only thing we can do is play on the one string we have,
and that is our attitude.
I am convinced that life is 10% what happens to me and 90% of how I react to it.
And so it is with you... we are in charge of our Attitudes."

- Charles R. Swindoll (1934 -) : Pastor, author, and educator



"We who lived in concentration camps
can remember the men who walked through the huts comforting others,
giving away their last piece of bread.
They may have been few in number,
but they offer sufficient proof that everything can be taken from a man
but one thing:
the last of the human freedoms -
to choose one's attitude in any given set of circumstances,
to choose one's own way."

- Viktor E. Frankl 1905 - 1997 : Nuerologist, psychiatrist, and Holocaust survivor



"The man who thinks he can
and the man who thinks he can't are both right.
Which one are you?"

- Henry Ford 1863 - 1947 : Founder of the Ford Motor Company



Share this Page
---
Return to Mind Quotes Page
from attitude quotes


Home Page


Top of this Page?