Inspirational Christmas Quotes
I hope these carefully selected inspirational christmas quotes will, in equal measures, chill you out and help rekindle that warm magical feeling we've all experienced (and still secretly long for) when we were kids.
The best bit of Christmas for me? Always the dinner; turkey, roast potatoes, gravy, stuffing, carrots, yes even the sprouts. Mmmmmm, oops think I just dribbled onto my Mac there. See you at the bottom of the page for some funny quotes about Christmas. If you don't make it (to the bottom of the page that is) have a good one.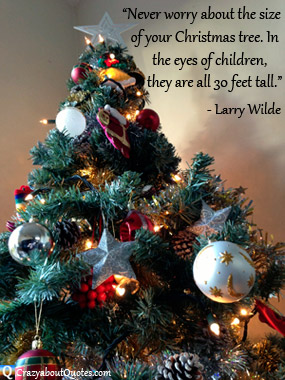 A Top 10 List of




Great Inspirational Christmas Quotes




1:

"Christmas! The very word brings joy to our hearts. No matter how we may dread the rush, the long Christmas lists for gifts and cards to be bought and given - when Christmas Day comes there is still the same warm feeling we had as children, the same warmth that enfolds our hearts and our homes." 

- Joan Winmill Brown : American author



2:

"Christmas is the day that holds all time together."

- Alexander Smith 1830 - 1867 : Poet



3:

"It is the personal thoughtfulness,
the warm human awareness,
the reaching out of the self to one's fellow man
that makes giving worthy of the Christmas spirit." 

- Isabel Currier



4:

"Christmas waves a magic wand over this world, and behold,
everything is softer and more beautiful."

- Norman Vincent Peale 1898 - 1993 : Religious leader and author



5:
"Never worry about the size of your Christmas tree.
In the eyes of children they are all 30 feet tall."
- Larry Wilde
6:

"Christmas isn't a season it's a feeling."

- Edna Ferber 1885 - 1968 : Novelist and playwright



7:

"Christmas is a necessity. 
There has to be at least one day of the year
to remind us that we're here for something else besides ourselves.

- Eric Sevareid 1912 - 1992 : News journalist



8:

"I will honour Christmas in my heart, and try to keep it all the year."

- Charles Dickens 1812 - 1870 : Writer



9:

"I wish we could put up some of the Christmas spirit in jars
and open a jar of it every month. 

- Harlan Miller



10:

"Christmas is, of course, the time to be home -
in heart as well as body."

- Garry Moore 



"They got cars big as bars. They got rivers of gold. But the wind goes right through you. It's no place for the old. When you first took my hand on a cold christmas eve. You promised me broadway was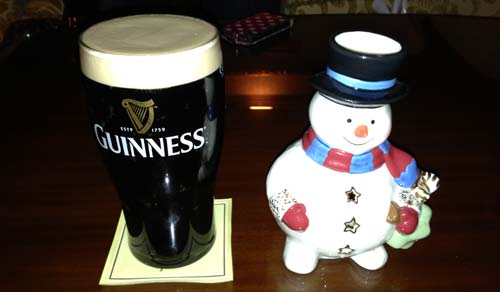 waiting for me. You were handsome you were pretty. Queen of New York City when the band finished playing they yelled out for more. Sinatra was swinging all the drunks they were singing. We kissed on a corner. Then danced through the night."
"And the boys from the NYPD choir were singing Galway bay. And the bells were ringing out for christmas day."
Wow, those lyrics give you a little shiver, or maybe that's just me? That was some of the Fairytale of New York lyrics by the Pogues of course. I hope you were singing?
Have a merry christmas. I'll have a pint of the black stuff and wish for YOUR success wherever you are. All the best - Will


Click here for Funny Christmas Quotes
---

Return to
Best Inspirational Quotes Index