Leonardo Da Vinci Quotes
Leonardo Da Vinci quotes? They are not searched for a lot, but you have landed on this page for a reason. You will find here some beautiful quotations that will cause you to pause for thought but equally stun you with the simplicity of truth they contain.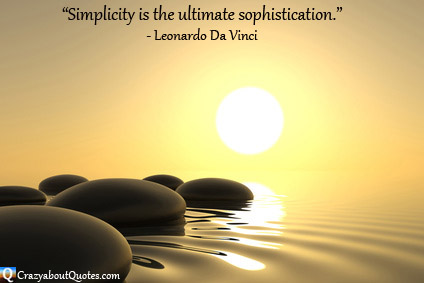 Profile: Leonardo Da Vinci was born in 1452, west of Florence, Italy. He was the illegitimate son of a prominent notary. About the age of 15 he was apprenticed to the famous artist Verrocchio's workshop.

After making a name for himself in Florence he went to Milan in 1482 where he was commissioned to paint The Last Supper and was involved in many engineering projects. Returning to Florence in 1500 he went on to paint the world famous Mona Lisa.

Leonardo Da Vinci spent his remaining years in France living near the Kings residence and died in 1519. Although renowned as a painter Leonardo was a scientist, mathematician, engineer, inventor, musician and more. He drew a concept of the helicopter and tank amongst other ideas that were not thought feasible during his lifetime.

The word genius could have been invented for this great mind. Leonardo threw himself into every subject with an unlimited and unquenchable thirst for knowledge and an intense curiosity that fuelled his imagination and guided his thoughts.
A Top 10 list of
Leonardo Da Vinci Quotes

1:
"The noblest pleasure is the joy of understanding."

- Leonardo Da Vinci



2:
"The greatest deception men suffer is from their own opinions."

- Leonardo Da Vinci



3:
"Our life is made by the death of others."

- Leonardo Da Vinci



4:
"I have offended God and mankind
because my work didn't reach the quality it should have."

- Leonardo Da Vinci



5:
"Every now and then go away, have a little relaxation,
for when you come back to your work your judgement will be surer.
Go some distance away because then the work appears smaller
and more of it can be taken in at a glance
and a lack of harmony and proportion more readily seen."

- Leonardo Da Vinci



6:
"Simplicity is the ultimate sophistication."
- Leonardo Da Vinci

7:
"If you are alone you belong entirely to yourself.
If you are accompanied by even one companion
you belong only half to yourself,
or even less, in proportion to the thoughtlessness of his conduct;
and if you have more than one companion
you will fall more deeply into the same plight."

- Leonardo Da Vinci



8:
"Obstacles cannot crush me.
Every obstacle yields to stern resolve.
He who is fixed to a star does not change his mind."

- Leonardo Da Vinci



9:
"I love those who can smile in trouble,
who can gather strength from distress, and grow brave by reflection."

- Leonardo Da Vinci



10:
"As every divided kingdom falls,
so every mind divided between many studies confounds and saps itself."

- Leonardo Da Vinci




I just love this simple but beautiful quote from Leonardo...

"A well-spent day brings happy sleep."

- Leonardo Da Vinci





Share this Page
Here's Da Vinci's thoughts on genius...

"Men of lofty genius when they are doing the least work are most active."

- Leonardo Da Vinci



Why? Because of course they are always thinking and thought is creative. If you believe we are off God and created in his likeness, whether in body or mind then there must be a little bit of potential genius in us all, right? Even if it is only a minuscule percentage of the massive creative power of this universe.

Which makes you wonder, what if there was a formula for becoming a genius? A set of rules to follow? It might involve recapturing your childhood, rediscovering your imagination and fuelling it everyday. Letting it run wild and free, without limitations.

Remember that intense curiosity you had as a child. If you can't, search for it, do not be afraid of the knowledge you have not yet acquired. We are here to learn, whether you are 1 year old or 121 years young, every single day we can learn a lesson or discover something new about life and this vast mind-blowing universe we all live in.

So aaaaanyway... thanks for visiting this Leonardo Da Vinci quotes page. Stay curious. 
---
Search for Leonardo Da Vinci on Amazon...