Fuel for your Mind
27 Inspirational Sports Quotes
Hi folks, here's a great collection of inspirational sports quotes I know you'll love. They all come from a variety of sporting heroes and legends. Use these quotes to fuel your mind and fulfil your goals.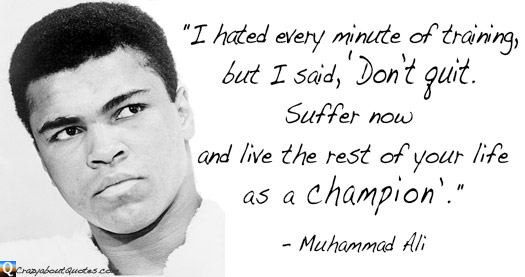 "I hated every minute of training, but I said, 'Don't quit. Suffer now and live the rest of your life as a champion." - Muhammad Ali (1942) : Heavyweight boxer
Make use of the comment box and let me know your favourites
oooooooor any great ones I've missed out. It can happen! 
27 Inspirational Sports Quotes


1:
"I firmly believe that any man's finest hour,
the greatest fulfillment of all that he holds dear,
is that moment when he has worked his heart out in a good cause
and lies exhausted on the field of battle - victorious."
- Vince Lombardi 1913 - 1970
(American football player and coach: Won 5NFL championships as coach of the Green Bay Packers, including the first two Super Bowls in 1966 and 67.)
2:
"Never give up!
Failure and rejection
are only the first step to succeeding."
- Jim Valvano 1946 - 1993
(Basketball coach and broadcaster.)
3:
"For any top sportsman,
it requires more than ability,
it requires a belief in yourself,
a passion and a desire to get over the line."
- Alex ferguson (1941)
(Football manager: Has won 49 trophies as a manager. He managed Manchester United from 1986 - 2013 winning 13 premier league titles and two champions league titles.)
4:
"I've missed more than 9,000 shots in my career.
I've lost almost 300 games.
26 times,
I've been trusted to take the game winning shot
and missed.
I've failed over and over and over again in my life.
And that is why I succeed."
- Michael Jordan (1963)
(Basketball player: Said to be the greatest basketball player of all time.)
5:
"There are only two options regarding commitment.
You're either IN or you're OUT.
There is no such thing as life in-between."
- Pat Riley (1945) : Basketball coach and player
6:
"You can't put a limit on anything.
The more you dream, the farther you get."
- Michael Phelps (1985)
(Swimmer: Most decorated Olympian of all time with 22 medals.)
7:
"You miss 100% of the shots you don't take."
- Wayne Gretzky (1961)
(Ice hockey player: Said to be the greatest ice hockey player of all time.)
8:
"The will to win is important,
but the will to prepare is vital."
- Joe Paterno 1926 - 2012 : American football coach
9:
"I always felt that my greatest asset
was not my physical ability,
it was my mental ability."
- Bruce Jenner (1949)
(Track and Field: At the 1976 Olympics in Montreal he won gold medal in the Decathlon.)
10:
"Pain is temporary. Quitting lasts for ever."
- Lance Armstrong (1971) : Cyclist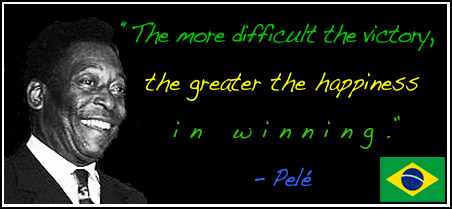 "The more difficult the victory, the greater the happiness in winning."
- Pelé (1940) 
(Footballer: The greatest???)

Inspirational Sports Quotes Cont...


11:
"Set your goals high,
and don't stop till you get there."
- Bo Jackson (1962) : American baseball and football player
12:
"If you have everything under control,
you're not moving fast enough."
- Mario Andretti (1940)
(Racing driver: Won in Formula One, Indy Car, World Sportscar Championship and NASCAR.)
13:
"It's not the will to win that matters -
everyone has that.
It's the will to prepare to win that matters."
- Bear Brant 1913 - 1983 : American football coach 
14:
"To uncover your true potential
you must first find your own limits
and then you have to have
the courage to blow past them."
- Picabo Street (1971) : American World Cup alpine ski racer
15:
"Make each day your masterpiece."
- John Wooden 1910 - 2010 : American basketball player and coach
16:
"If you can believe it, the mind can achieve it."
- Ronnie Lott (1959) : American football player
17:
"You have to expect things of yourself before you can do them."
- Michael Jordan (1963) : Basketball player
18:
"Always make a total effort,
even when the odds are against you."
- Arnold Palmer (1929) : Golfer
19:
"I've learned that something constructive comes from every defeat."
- Tom Landry 1924 - 2000 : American football coach and player
20
"Age is no barrier,
It's a limitation you put on your mind."
- Jackie Joyner-Kersee (1962) : Athlete: Long jump and heptathlon.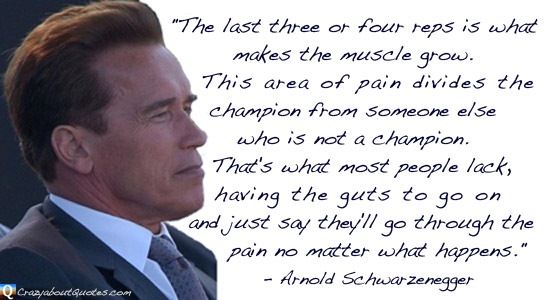 "The last three or four reps is what makes the muscle grow.
This area of pain divides the champion
from someone else who is not a champion.
That's what most people lack,
having the guts to go on
and just say they'll go through the pain
no matter what happens."
- Arnold Schwarzenegger (1947)
Austrian born bodybuilder, actor, businessman and politician

Inspirational Sports Quotes Cont...


21:
"Persistence can change failure into extraordinary achievement."
- Matt Biondi (1965) : Olympic swimming champion
21:
"An athlete cannot run with money in his pockets.
He must run with hope in his heart and dreams in his head."
- Emil Zatopek 1922 - 2000
(Long distance runner: Considered by some the greatest runner of the 20th century.)
22:
"Just keep going.
Everybody gets better if they keep at it."
- Ted Williams 1918 - 2002 : Baseball player
23:
"Excellence is the gradual result of always striving to do better."
- Pat Riley (1945) : Basketball coach and player
24:
"Make sure your worst enemy doesn't live between your own two ears." 
- Laird Hamilton (1964) : Big wave surfer
25:
"You are never really playing an opponent.
You are playing yourself,
your own highest standards,
and when you reach your limits, that is real joy."
- Arthur Ash 1943 - 1993 : American tennis player
26:
"I tell the kids, somebody's gotta win,
somebody's gotta lose.
Just don't fight about it.
Just try to get better."
- Yogi Berra (1925) : Baseball player and manager
27:
"Champions keep playing until they get it right."
- Billie Jean King (1943)
(Tennis player: Won 39 Grand Slam titles, 12 singles and 27 doubles/mixed doubles.)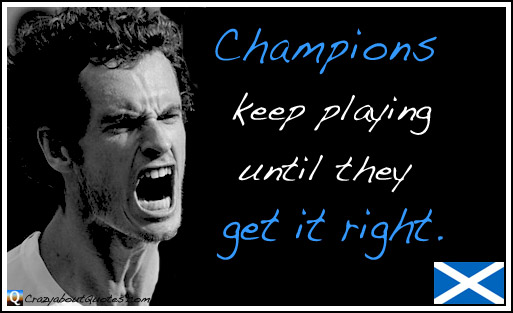 Share this Page
---

Return to
Best Inspirational Quotes
from inspirational sports quotes