Motivational Universe Quotes
A collection of motivational universe quotes that will maybe lighten the load a little.
Any problems we experience in life can easily be put in perspective when we contemplate the Universe. It's vastness, it's beauty, and the complexity of it's ever present forces of which we are yet to fully understand, all serve to give us perspective on our lives.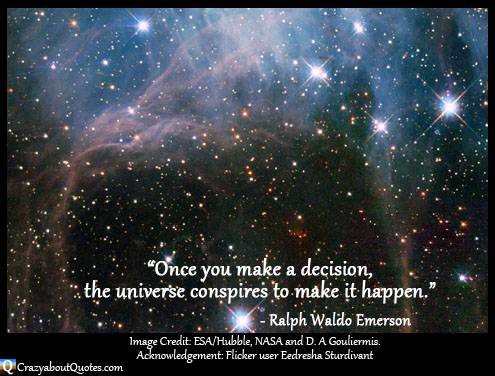 Brilliantly bright shining stars in a dwarf satellite galaxy of the Milky Way.
Spanning nearly 2,000 years from Marcus Aurelius to Jim Carrey, I hope these quotes will enlighten and fuel your mind.
A Top 10 List of
Motivational Universe Quotes
1:

"Look at the sky. We are not alone.
The whole universe is friendly to us
and conspires only to give the best to those who dream and work."

Abdul Kalam 1931 - present : Scientist, author and 11th president of India



2:

"He who lives in harmony with himself
lives in harmony with the universe."

- Marcus Aurelius 121 - 180 AD : Roman Emperor and philosopher



3:

"There is only one corner of the universe you can be certain of improving,
and that's your own self."

- Aldous Huxley 1894 - 1963 : Novelist



4:

"Joy in the universe, and keen curiosity about it all -
that has been my religion."

- John Burroughs 1837 - 1921 : Writer and naturalist



5:
Dwarf galaxy about 12 million light-years away in the
'The Great Bear' constellation.




6:

"The universe is one of God's thoughts."

- Friedrich Schillar 1759 - 1805 : Poet, playwright and philosopher



7:

"I really believe in the philosophy that you create your own universe.
I'm just trying to create a good one for myself."

- Jim Carrey 1962 - present : Actor and comedian



8:

"There is only one thing for us to do, and that is
to do our level best right where we are every day of our lives;
To use our best judgement, and then to trust the rest
to that power which holds the forces of the universe in his hands."

- Orison Swett Marden 1850 - 1924 : Author



9:

"There is an orderliness in the universe,
there is an unalterable law governing everything and every being
that exists or lives. It is no blind law;
for no blind law can govern the conduct of living beings."

- Gandhi 1869 - 1948 : Leader of Indian independence



10:

"You, yourself, as much as anybody in the entire universe,
deserve your love and affection."

- Buddha 563 - 483BC : Founder of Buddhism




"The universe is change;
our life is what our thoughts make it."

- Marcus Aurelius 121 - 180 AD :
Roman Emperor and philosopher
---
Return to Universe Quotes Page
from Motivational Universe Quotes