Inspirational Plato Quotes
A collection of inspirational Plato quotes and brief profile of this great philosopher.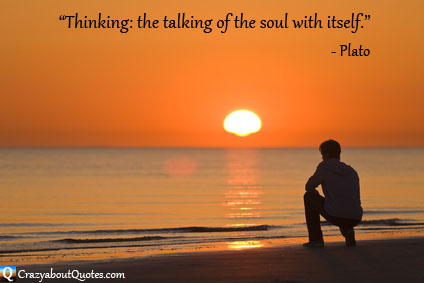 Profile: Plato was born into a wealthy and prominent family in Athens in 428 BC. He was a student and friend of the great Socrates. And after Socrates death in 399 BC he left Athens and travelled for some time.
Plato returned to Athens and around the age of 40 he set up the Academy, a school of mathematics and philosophy, which became the finest in all of ancient Greece, and of which Aristotle was a student.
Plato is credited as laying the foundations of Western philosophy. His inspiration is clearly Socrates who features as the main character in many of his dialogues.
Plato died in 347 BC having dedicated his life to philosophy and education. He remains to many, one of the most inspirational philosophers of all time. Plato's dreams of the philosopher king came true with Marcus Aurelius 121 - 180 AD.
A Top 10 List of Plato Quotes


1:

"Good actions give strength to ourselves
and inspire good actions in others."

- Plato



2:

"I exhort you also to take part in the great combat,
which is the combat of life,
and greater than every other earthly conflict."

- Plato



3:

"Twice and thrice over , as they say,
good is it to repeat and review what is good."

- Plato



4:

"Philosophy begins in wonder."

- Plato



5:

"Thinking: the talking of the soul with itself."

- Plato



6:

"Human behaviour flows from three main sources:
desire, emotion, and knowledge."

- Plato



7:

"For a man to conquer himself is the first and noblest of all victories."

- Plato



8:

"All men are by nature equal, made all of the same earth by one Workman;
and however we deceive ourselves,
as dear unto God is the poor peasant as the mighty prince."

- Plato



9:

"I think a man's duty is to find out where the truth is, or if he cannot,
at least to take the best possible human doctrine and the hardest to disprove,
and to ride on this like a raft over the waters of life."

- Plato



10:

"Man - a being in search of meaning."

- Plato

"Be kind,
for everyone you meet is fighting a harder battle."
-Plato

More Plato Quotes...

"The measure of a man is what he does with power."
- Plato
~
"Better a little which is well done, than a great deal imperfectly."
-Plato
~
"You can discover more about a person
in an hour of play than in a year of conversation."
- Plato
~

"Wise men speak because they have something to say;
Fools because they have to say something"
- Plato
~
"Life must be lived as play."
- Plato

---
Related pages you may like...

---