Inspirational Travel Quotes
I love travel quotes almost as much as I love travel, which believe me, is saying a lot! I've compiled two Top 10 lists of the best inspirational travel quotes. So whether your planning or just dreaming of adventures I hope these will inspire you.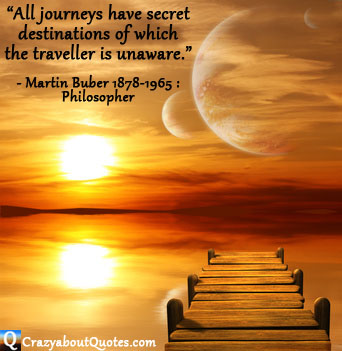 In a new country a simple sunset can take your breath away; you are exactly where you want to be, doing what you want to do, that feeling of freedom accompanied with the beautiful simplicity of nature can melt any heart.
Travel is as much about learning and growing as it is seeing. New cultures, new challenges, meeting new people, finding somewhere to sleep on new years eve in Sydney when your down to your last cents and have been surviving on chocolate paste and bread for three days! I could bore you extensively with my travels at this point, but too many great quotes to get through so here we go….
A Top 10 List of 
Inspirational Travel Quotes


1:

"Certainly, travel is more than the seeing of sights;
it is a change that goes on, deep and permanent, in the ideas of living."

- Miriam Beard



2:

"Like all great travellers, I have seen more than I remember,
and I remember more than I have seen."

- Benjamin Disraeli 1804 - 1881 : British statesman and novelist



3:

"The World is a book,
and those who do not travel read only a page."

- Saint Augustine 354 - 430 : Christian philosopher and theologian



4:

"I travel not to go anywhere, but to go.
I travel for travels sake. The great affair is to move."

- Robert Louis Stevenson 1850 - 1894 : Novelist, poet and travel writer



5:

"All journeys have secret destinations of which the traveller is unaware."

- Martin Buber 1878 - 1965 : Philosopher



6:

"I see my path, but I don't know where it leads.
Not knowing where I'm going is what inspires me to travel it."

- Rosalia de Castro 1837 - 1885 : Poet



7:

"The traveller sees what he sees,
the tourist sees what he has come to see."

- Gilbert K. Chesterton



8:

"Two roads diverged in a wood, and I
- I took the one less travelled by,
and that has made all the difference."

- Robert Frost 1874 - 1963 : American poet



9:

"A journey of a thousand miles must begin with a single step."

- Lao Tzu



You may have noticed I like to save the best to last sometimes.
I've been a fan of the author of this next travel quote for a long time.
I Loved Monty Python and have been inspired by his travels ever since.
This quote sums up my own attitude to travel very nicely.




"Once the travel bug bites there is no known antidote,
and I know that I shall be happily infected
until the end of my life."

-Michael Palin



A Top 10 List of the best
Inspirational Travel Quotes from Famous People


1:

"Though we travel the world over to find the beautiful,
we must carry it with us or we find it not.

- Ralph Waldo Emerson 1803 - 1882 : Poet, lecturer and philosopher



2:

"One travels more usefully when alone, because he reflects more."

Thomas Jefferson - 3rd U.S. president (1801 - 1809)



3:

"To get to know a country, you must have direct contact with the earth.
It's futile to gaze at the world through a car window."

- Albert Einstein 1879 - 1955 : Theoretical physicist



4:

"Every man who possibly can should force himself to a holiday of a full month in a year, whether he feels like taking it or not."

William James 1842 - 1910 : Psychologist and philosopher



5: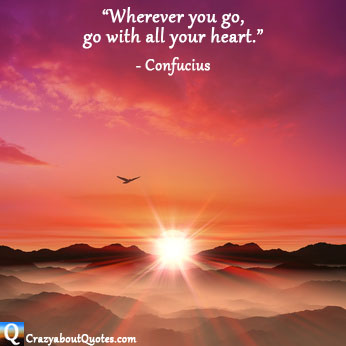 6:

"It is better to travel well than to arrive."

- Buddha



7:

"Not all those who wander are lost."

- J. R. R. Tolkien 1892 - 1973 : Writer, poet and philologist



8:

"The journey not the arrival matters."

- T. S. Eliot



9:

"Journeys end in lovers meeting."

- William Shakespeare 1564 - 1616 : Playwright, poet and actor



This next quote coming up you may well be familiar with, even already read it a million times. There is a reason for that. It's good.

So just take a pause from scanning this page (I know what you're up to!) and take a breath. Remember the first time you read it, your heart beat a little faster, your eyes widened and moistened ever so slightly before focusing on some point on the distant horizon. (Or is that just me!)

Aaaaanyway…this still has the goose bump factor for me every time…..

P.S. This quote is often wrongly attributed to Mark Twain. It was published in a book by H. Jackson Brown, which was a collection of wise aphorisms from Brown's mother. Thanks to the quoteinvestigator.com for that one.






"Twenty years from now
you will be more disappointed by the things
that you didn't do than by the ones you did do.
So throw off the bowlines. Sail away from the safe harbour.
Catch the trade winds in your sails.
Explore. Dream. Discover."
- H. Jackson Brown





Share this Page

Starting Soon...
Join Me on a Wonderful World Tour of Inspirational Quotations
---
Return to Home Page
from Travel Quotes
Thanks for visiting this Travel quotes page. Feeling a little inspired now?
I am and I'm off! I c u after. All the best - Will...