17 Inspirational Beauty Quotes
Whether it's the beauty of love, truth, or the intricate complexities of nature you appreciate, you'll find plenty of opinions in these beauty quotes to inspire.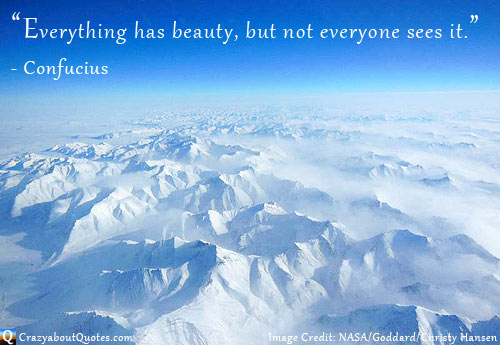 View of the Alaskan mountains on the way to Fairbanks.
Taken on NASA's Operation IceBridge mission to study Earth's polar ice.
Some of the most beautiful moments in life for me have been spent simply watching the sunrise and set. Nature at it's best and in all it's beauty can really take your breath away. Breathe and enjoy.
17 Inspirational Beauty Quotes


1:
"The beauty of a woman is not in a facial mode
but the true beauty in a woman is reflected in her soul.
It is the caring that she lovingly gives the passion that she shows.
The beauty of a woman grows with the passing years."
- Audrey Hepburn
2:
"Love of beauty is taste.
The creation of beauty is art."
- Ralph Waldo Emerson
3:
"The best and most beautiful things in the world cannot be seen or even touched
- they must be felt with the heart."
- Helen Keller
4:
"Dwell on the beauty of life.
Watch the stars, and see yourself running with them."
- Marcus Aurelius
5:
"Never lose an opportunity of seeing anything beautiful,
for beauty is God's handwriting."
- Charles Kingsley
6:
"Rare is the union of beauty and purity."
- Juvenal : 1st century Roman poet 
7:
"Youth is happy because it has the capacity to see beauty.
Anyone who keeps the ability to see beauty never grows old."
- Franz Kafka
8:
"Since love grows within you, so beauty grows.
For love is the beauty of the soul."
- Saint Augustine
9:
"A thing of beauty is a joy forever:
its loveliness increases;
it will never pass into nothingness."
- John Keats
10:
"Think of all the beauty still left around you and be happy."
- Anne Frank
11:
"Though we travel the world over to find the beautiful,
we must carry it with us or we find it not."

- Ralph Waldo Emerson
12:
"The beauty of a living thing is not the atoms that go into it,
but the way those atoms are put together."
- Carl Sagan
13:
"You can take no credit for beauty at sixteen.
But if you are beautiful at sixty,
it will be your soul's own doing."
- Marie Stopes
14:
"Everybody needs beauty as well as bread,
places to play in and pray in,
where nature may heal and give strength to body and soul."
- John Muir
15:
"Of life's two chief prizes, beauty and truth,
I found the first in a loving heart
and the second in a laborer's hand."
- Kahlil Gibran
16:
"There is nothing more rare, nor more beautiful,
than a woman being unapologetically herself;
comfortable in her perfect imperfection.
To me, that is the true essence of beauty."
- Steve Maraboli
17:

"Just one smile
immensely increases the beauty 
of the universe."
- Sri Chinmoy 1931 - 2007 : Indian spiritual master





Share this Page
Related page you may like...

Return to Love Quotes
from beauty quotes