17 Inspirational Leadership Quotes
Leadership for me is setting an example, great leaders aren't simply born, but rather made through life experience. Get yourself motivated with these 17 super inspirational leadership quotes.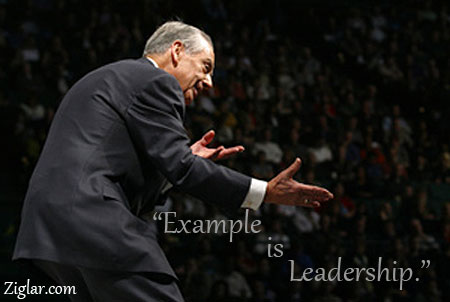 Photo from Ziglar.com; the "Example is leadership" quote is from Albert Schweitzer.
Thinking of leadership there many greats that come to mind like Mandela, Gandhi, Churchill, and Lincoln. But still, I can't help thinking of Zig Ziglar who made such a difference to so many lives. Zig died 28th Nov 2012 and his legacy continues at Ziglar.com

17 Inspirational Leadership Quotes


1:

"Before you are a leader, success is all about growing yourself.

When you become a leader, success is all about growing others. "

- Jack Welch (1935) : Business executive and author



2:

"Leadership and learning are indispensable to each other. "

- John F. Kennedy 1917 1963 : 35th U.S. President



3:

"A leader isn't someone who forces others to make him stronger;

a leader is someone willing to give his strength to others

so that they may have the strength to stand on their own."

- Beth Revis : Author



4:

"People ask the difference between a leader and a boss.

The leader leads, and the boss drives."

- Theodore Roosevelt 1858 - 1919 : 26th U.S. President



5:

"A leader is best when people barely know he exists,

when his work is done, his aim fulfilled,

they will say: we did it ourselves."

- Lao Tzu : Ancient Chinese philosopher



6:

"No man will make a great leader

who wants to do it all himself or get all the credit for doing it."

- Andrew Carnegie 1835 - 1919 : Industrialist  



7:

"The challenge of leadership is to

be strong, but not rude;

be kind, but not weak;

be bold, but not bully;

be thoughtful, but not lazy;

be humble, but not timid;

be proud, but not arrogant;

have humor, but without folly. "



- Jim Rohn 1930 - 2009 : Entrepreneur, author, and speaker



8:

"The task of the leader is to get his people from where they are

to where they have not been."

- Henry A. Kissinger (1923) : Former U.S. Secretary of State, writer, and businessman



9:

"He who is not a good servant will not be a good master."

- Plato 428 BC - 347 BC : Philosopher



10:

"The most dangerous leadership myth is that leaders are born,

that there is a genetic factor to leadership.

That's nonsense; in fact, the opposite is true.

Leaders are made rather than born."

- Warren G. Bennis (1925) : Consultant and author





Two movies/inspirational books from Simple Truths related to Leadership...


11:

"Management is about arranging and telling.

Leadership is about nurturing and enhancing."

- Tom Peters (1942) : Writer


12:

"Today a reader tomorrow a leader."

- Margaret Fuller 1810 - 1850 : Teacher, journalist, and critic



13:

"A good leader takes a little more than his share of the blame,

a little less than his share of the credit."

- Unknown



14:

"The supreme quality of leadership is integrity. "

- Dwight Eisenhower 1890 - 1969 : 34th U.S. President



15:

"Leaders think and talk about the solutions.

Followers think and talk about the problems."

- Brian Tracy (1944) : Motivational speaker and author



16:

"Whatever you are, be a good one. "

- Abraham Lincoln 1809 - 1865 : 16th U.S. President



17:

"Your attitude, not your aptitude,

will determine your altitude."

- Zig Ziglar




"I must follow the people.

Am I not their leader?"



- Benjamin Disraeli 1804 - 1881 : British Prime Minister


Thank you for visiting this inspirational leadership quotes page.
---
Related pages you may like...

---

Return to Quotes about Success
from inspirational leadership quotes




Home Page | Top of Page