Inspirational Quote of the Day
World Tour: (Africa)
Selected week from our quote of the day world tour...
We've moved on this week to Africa folks, bringing you many great authors associated with this vast continent. Enjoy!
Selected previous weeks...
4 | 3 | 2 | 1 :) Quote for Today 


"God help us from those who believe that they are the sole possessors of truth. How we manage at times to agree willingly to become prisoners within our own minds and souls of beliefs and ideas on which we can never be flexible."
- King Hussein I 1935 - 1999 : Ruler of Jordan 1953 - 1999
Image of the Week...
African sunset in the Serengeti National Park, Tanzania.



"I just wish the world was twice as big and half of it was still unexplored." - David Attenborough



Share this Page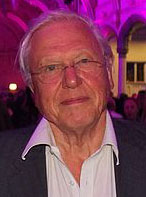 Featured famous person of the week...
Sir David Attenborough (1926) Image Credit: Klaus Müller
Sir David Attenborough is Britain's much loved and best known naturalist and  broadcaster. His career has lasted over an incredible 60 years and counting.
After leaving the Navy he joined the BBC in 1952 becoming controller of BBC2 then director of programmes for both channels in 1969. However he resigned from this position and returned to broadcasting going on to make some unforgettable programmes such as 'Life on Earth', 'The Living Planet', and more recently 'Planet Earth' and 'Africa'.
Attenborough is a legend with too many honours to his name to list here. He also works to support many environmental causes so I'll just leave you with this last message from Sir David Attenborough...

"The future of life on earth depends on our ability to take action… Real success can only come if there's a change in our societies and our economics and in our politics… Surely we have a responsibility to leave for future generations a planet that is healthy, inhabitable by all species."


"Psychology is as important as substance.
If you treat people with respect,
they will go out of their way to accommodate you.
If you treat them in a patronizing way,
they will go out of their way to make your life difficult."
- Mohamed ElBaradei (1942) : Egyptian diplomat

"An understanding of the natural world and what's in it
is a source of not only a great curiosity but great fulfillment."
- David Attenborough (1926) : Broadcaster and naturalist


"Who wants to live forever?"
- Freddy Mercury 1946 - 1991 : Musician
(Born in Zanzibar)
"I will go anywhere provided it is forward."
- David Livingstone 1813 - 1873
(Scottish born missionary and explorer, died in Zambia 1st May 1873)


"I like to listen.
I have learned a great deal from listening carefully.
Most people never listen."
- Ernest Hemingway 1899 - 1961 : Author and journalist


"Conquer thyself,
till thou hast done this, thou art but a slave;
for it is almost as well to be subjected to another's appetite as to thine own."
- Richard Francis Burton 1821 - 1890 : British explorer, solider and author 
Selected previous weeks...
4 | 3 | 2 | 1 :) Quote for Today 
Inspirational Quote of the Day sent straight to your Inbox. Sign up Here!


Return to Home Page
from quote of the day





Top of Page